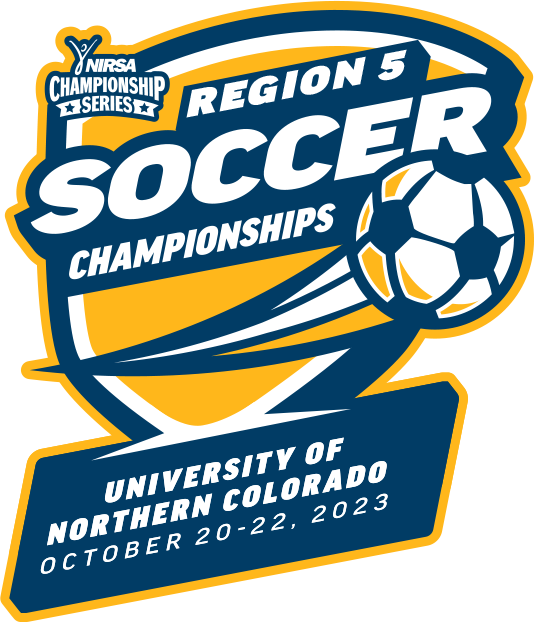 October 20-22, 2023
University of Northern Colorado
1505 23rd Street. Greeley, CO 80631
---
All collegiate club soccer teams associated in Region V leagues are eligible to compete. This is an invitational postseason tournament. The tournament offers three bids in the Men's and Women's division to the NIRSA Championship Series National Soccer Championships.
TOURNAMENT ENTRY FEE:
$900/TEAM
REQUIRED PAPERWORK
ALL FORMS ARE DUE VIA EMAIL TO [email protected]
HARD COPIES MUST ALSO BE PROVIDED AT TOURNAMENT SITE.
RULES
Governed by NCAA rules as modified according to NIRSA National Soccer Championships Rules of Play (2023 Region V Rules of Play)
ROSTERS
All teams must certify their roster with their Sport Club Director. No Certification by your Sport Club Director equals no participation. A final roster certification will be performed by tournament staff as it relates to NIRSA Player & Team Eligibility for players with NCAA experience and/or 4+ years of collegiate participation.
PLAYER CHECK-IN
At least fifteen minutes prior to the start of each scheduled game, the Field Marshal will check the teams in for play. Each player must have a physical government or university picture ID that must match to the team's player roster. Digital IDs are NOT permitted to be used. A team who fails to properly check in with the Field Marshal will forfeit that game.
HOTEL INFORMATION
Super 8 by Wyndham Greeley ~ $107/room/night ~ Check Availability
Comfort Inn & Suites Greeley ~ $120/room/night ~ Check Availability
Best Western Greeley ~ $134/room/night ~ Check Availability
Country Inn & Suites by Radisson Greeley ~ $140/room/night ~ Check Availability
Fairfield Inn & Suites by Marriott Greeley ~ $166/room/night ~ Check Availability

WEATHER INFORMATION
The regional soccer tournament may be altered and or canceled in the event of inclement weather or poor field conditions. Games may be shortened, postponed or canceled. In the event of a tournament cancellation, bids will be awarded based upon the regional rankings.
QUESTIONS?
Contact Angie Adame & Emilee Howard – NIRSA Region V Coordinators
[email protected]

Parking Permits Enforced Mon-Fri 9a-5p.
Permit Purchase Link: https://www.unco.edu/parking/permits/pay-to-park-permits.aspx